Wayne's Drains: Professional Sewer & Drain Cleaning, Septic Tank Cleaning & Maintenance and more.
Family-owned since 2000.
In 2000, Wayne and Dot Barme began Wayne's Drains, a family-owned and operated business serving the Greater Boston area with excellent residential and commercial drain cleaning and septic tank pumping. What began as a business in our basement has grown to nearly 30 employees, a fleet of trucks with the latest equipment based out of a 30,000 square-foot facility in Burlington, Massachusetts.
Fully Licensed & Insured, and trained professionals.
At Wayne's Drains, we pride ourselves on providing the best in residential and commercial sewer and drain cleaning. Our licensed professionals assist our customers with cleaning and pumping septic systems and drains and their associated issues, such as back-ups, slow drains, and septic tank maintenance. Our customers rely on our professional, responsive, and consistent technicians who take pride in a job well done and a clean job site.
* Referrals and Certificate of Insurance is available upon request.
Meet Our Key Clients
Winn Management
Fenway Park
Charlestown Navy Yard
Boston Medical
Faneuil Hall
Children's Hospital
Tufts University
Harvard University
Dana Farber
Brigham & Women's Hospital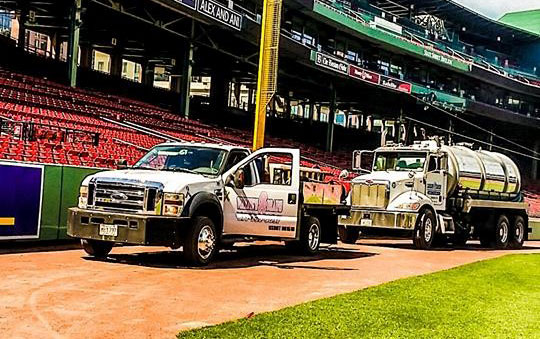 Wayne's Drains does not subcontract work out, all equipment is owned and operated by Wayne's Drains.
Twenty fully stocked service vans
Two 5000 gallon pump trucks
Two 3500 gallon pump trucks
One 500 gallon pump truck
One 1000 gallon pump truck
Three high pressure water jet trucks and two trailer jets
Two Vactor Trucks
Catch Basin Truck
TV inspection equipment and Tractor camera
Utility Truck with all confined space equipment
Twelve RIDGID push cameras, including four handheld cameras:
SeeSnake micro inspection units
NaviTrack and Scout locators from RIDGID
New state of the art lateral launch robot
Camera for sewer system inspections for Pipes 6" to 48"
We solve problems.
Our services cover a range of needs for drain cleaning and septic tank pumping and their related services and maintenance. Split about evenly between residential and commercial clientele, about 80% of which is sewer and drain cleaning services. Having built our business from the ground up using state-of-the-art equipment, Wayne's Drains credits our great success to being able to solve problems to our customers' complete satisfaction. We take extra pride in presenting staff that are extensively trained and pass several background checks.
Don't wait, call us now.
Most sewer and septic tank issues start out small, nearly inconspicuous inconveniences – a slow drain, a bad smell emanating from your drain. You may notice the water runs slowly at first, but over time, that slow drain can lead to larger issues. If you don't address the issue, over time the drain may become completely clogged, and then you're dealing with standing water in sinks and tubs. We're a family-owned business providing the best in residential and commercial drain and septic services, and we're your first choice for quality and service.  Contact the drain cleaning professionals at Wayne's Drains to get quality drain cleaning services in the Greater Boston area.