Vactor Truck and Clam Truck Services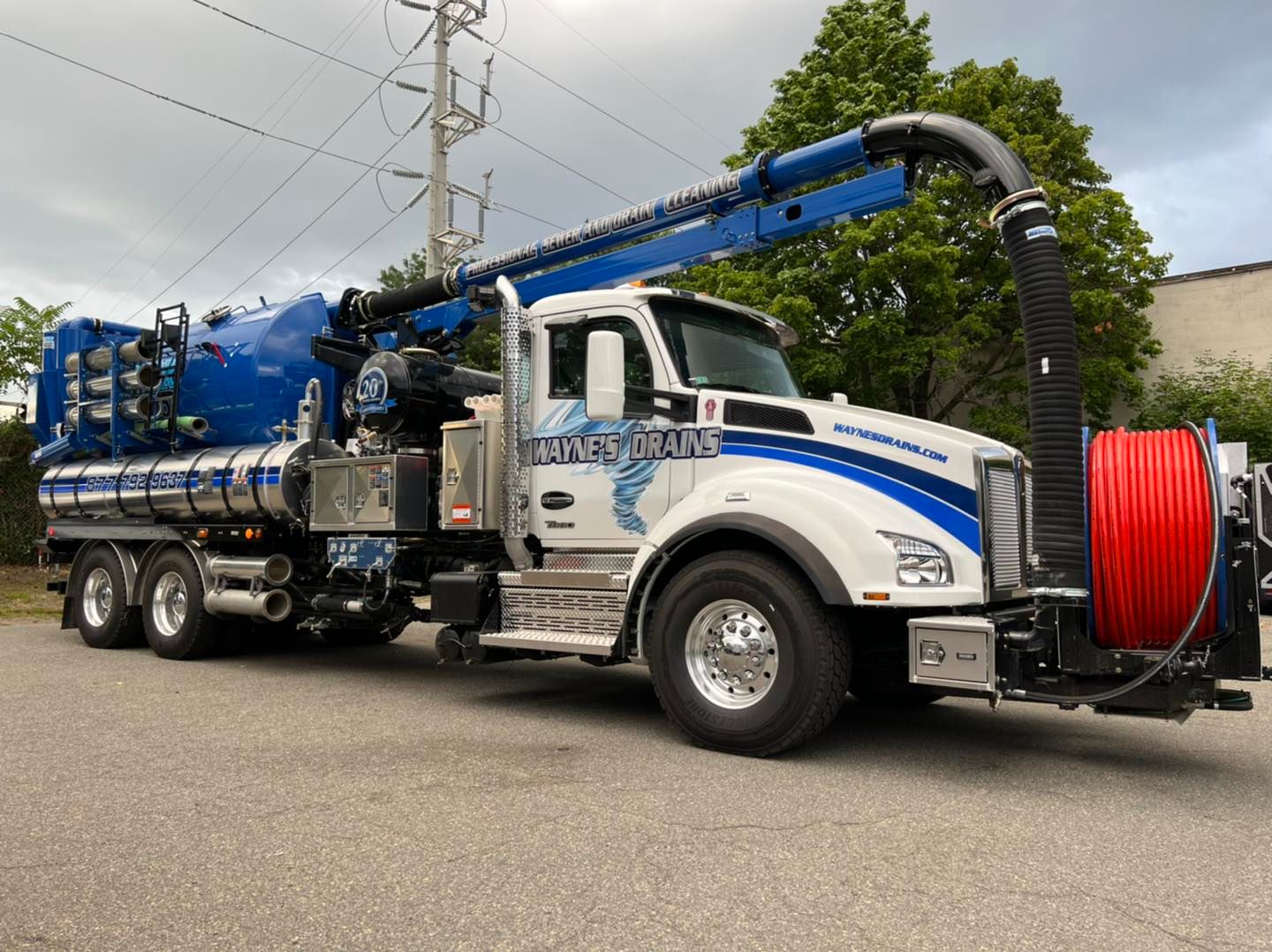 We Have the Right Equipment to Get the Job Done.
Storm sewers and catch basins do great at removing water when it rains hard, but they are only effective if they are clean, and sometimes they end up getting clogged with debris. That's where our fleet of vehicles and operators come in handy for Burlington, Boston, MA, and Surrounding Areas. We offer vactor truck services and clam truck services to help clean out storm sewers and catch basins to keep them operational. Our Vactor truck operator has 20 years of experience. Flooding is no joke, so give Wayne's Drains a call to keep things open and flowing as they should.
Hydro Jetting and Vacuuming
For Broken Sewer Water Lines and Storm Drains
If you have a very large clog, or if tree roots are infiltrating your sewer lines or storm drains, you need something that can clean things up and provide a clean drain line. Wayne's Drains offers vactor truck services for high volume vacuuming of these drain lines and sewer lines. Another alternative to ask about is hydro jetting, which is powerful enough to sever tree roots and dramatically clean out sewer drains and storm drains.
Pipe Tree Root Removal
It can happen, and if you have nice trees in your yard, it is likely only a matter of time before you get tree roots in your sewer pipes. These roots will only make drainage a problem as time goes on, so you need to take care of them. Wayne's Drains offer pipe tree root removal using hydro jetting technology that is the latest and greatest option for cleaning your drains. It is a great alternative to completely digging up your sewer lines, and replacing them.
Grease Trap Cleaning
Having a restaurant, whether a freestanding unit, as part of a hotel or elsewhere, means you have a grease trap as part of your plumbing setup. These grease traps need maintenance from time to time, and a good grease trap cleaning is vital to keep things flowing properly and not backing up into your kitchen area. Call Wayne's Drains today to schedule a grease trap cleaning.
Catch Basin Cleaning and Maintenance
Typically, you will find catch basins in a municipal setting. These are designed to help with stormwater runoff, where different items such as branches, leaves, and other things are trapped in the catch basin rather than continuing down the water system. Catch basin cleaning and maintenance is offered by Wayne's Drains, and they can use clam truck services to get out the largest of the debris, plus they have vactor truck services to finish the job.